In September 2009, I was in Carmel, California for the grand opening celebration of Mountainsong Galleries, who represent my work. While there, I completed five paintings, including "Garrapata Glory", painted on location at Garrapata State Park...one of my favorite places to paint. Normally, I get so engrossed in painting that I don't think to take photos of the process...however this time I decided (and remembered!) to do so and thought you might like to see how the painting progressed.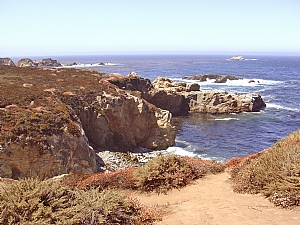 Above left is the location where I was standing...the cliffs here are so beautiful and I love the shadow and light patterns at this time of day (mid-day). This next photo, above right, shows my pochade setup...an Open Box M on a tripod. Note that I placed my easel so that the canvas and the majority of the palette were in shade. This helps me to see the colors more accurately. I find if I paint with it in the sun, the colors are very washed out when I get the paintings back in the studio.
Above, left, you can see that I've blocked in the shadow shapes and can see part of the initial drawing, done with a brush and thinned paint. I toned the canvas with a light wash of cadmium red light before I started. This gives a nice warm glow to the finished painting, as some of that underpainting ends up showing through. This next image shows the light shapes including the water having been blocked in. I then went over the entire painting, painting in smaller shapes of color and value within the larger shapes. I left the foreground until last in this painting since it was in sunlight the entire time I painted and didn't change much. I was more concerned with capturing the light and shadow on the cliffs first since that was changing quickly. Finally, below is the finished painting..."Garrapata Glory", 8x10 oil on linen panel. This painting is available at Mountainsong Galleries, Carmel-by-the-Sea, www.mountainsonggalleries.com.