"The Legacy of the West: Abby Williams Hill and Debra Joy Groesser, Two Women Artists Painting A Century Apart"
With a Companion Solo Exhibition of Western Landscape Paintings by Debra Joy Groesser entitled "The Legacy of the West: In the Footsteps of Abby Williams Hill"
Over the last four years, I've had the honor to follow in the footsteps of a woman plein air painter who lived and worked a century ago, painting across the western United States. This remarkable woman, a married mother of four, was commissioned by the railroads four times to travel and paint the west.
A solo exhibition of my western landscape paintings, most of which were created over the last four years, will be held at The Hardware Store Gallery, 17601 Vashon Hwy SW, Vashon Island, Washington. The exhibition entitled "The Legacy of the West: In the Footsteps of Abby Williams Hill" will be on display from November 1 to December 3, 2013.
Opening concurrently is a companion exhibition, "The Legacy of the West: Abby Williams Hill and Debra Joy Groesser, Two Women Painting a Century Apart" which includes the previously unseen, family owned, western paintings of Abby Williams Hill, who lived on Vashon from 1895 to 1906, linked with my work, as a western woman artist whose paintings have a unique connection to Abby's. This exhibition will run through Spring 2014 at the Vashon-Maury Island Heritage Museum, 10105 Bank Road SW, also in Vashon. In addition to the paired paintings, both my 10 year old pochade box and Abby's 100 year old metal paint box are on display together as shown in the photo below.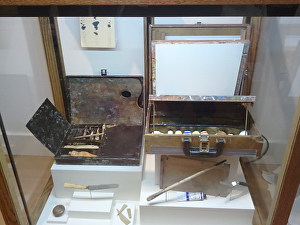 A concurrent opening reception will be held at both galleries from 6 to 8pm on Friday November 1, 2013.
Abby Williams Hill (1861-1943) was a pioneer western landscape artist. She left a remarkable legacy of individual achievement as a western woman artist and her work gives us a unique insight into the life of a woman and an artist at the turn of the last century. Hill was a progressive liberal, worked for women's suffrage, worked for a variety of social causes of her time, eschewed fashions involving the ever-present corset, and was an outspoken proponent of women's rights.
Below: "Cliffs, Emerald Bay, Laguna Beach" 18x24 oil by Abby Williams Hill (1915)
Image Courtesy University of Puget Sound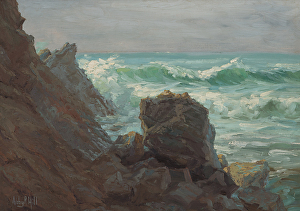 I became aware of Abby Williams Hill's work when I visited the 2009 Vashon-Maury Island Heritage Museum's exhibit "Long in the Memory" which featured Abby's Vashon works. The same exhibit brought Abby's grandnephew David Norberg to Vashon and the idea for this exhibit "The Legacy of the West" was born. David had access to a number of Abby's paintings owned by the family that had never been exhibited, and after browsing through a book about Abby at the museum, I found a number of uncanny connections with Abby. In conversations with Dr. Bruce Haulman of the Vashon-Maury Island Heritage Museum, David and I agreed to curate this unique exhibit that links Abby's unexhibited paintings with my works that echo the legacy of Abby's work. I also agreed over the following four year period to travel and paint in many of the same areas where Abby had painted across the west, particularly in several of the national parks, and in Laguna Beach, California, where Abby also lived for several years.
Below: "Shadows of Zion" 14x18 oil (2013)
I found the connections between Abby Williams Hill and me, as two western women artists who worked a century apart, both amazing and uncanny. We are both commercially successful women artists in a field dominated by male artists. We both married prominent community professionals (Abby's husband was a physician, my husband is a five term mayor) with social and volunteer commitments in their communities. We both had family situations arise that at times caused our art careers to be put on hold. Both Abby and I grew up on the Great Plains less than 250 miles apart. I moved to Nebraska at age 10 and have lived there ever since, Abby was born and raised in Grinnell, Iowa. We both have connections to England, to Quebec, to Laguna Beach California, and to Vashon Island, Washington. We both have a love of and reverence for nature, adventurous spirits and are drawn to the wilderness. Many of Abby's works capture this fascination with the west and the spirit of nature she found there, as do mine. We both were very active in supporting early childhood education, as well as other social issues. Although both of us are knows as predominantly landscape painters, Abby painted a number of portraits, as I also do. We both have worked in a variety of mediums beyond the oils for which we are both best known.
An additional special event corresponding with this exhibit is a conversation between Abby Williams Hill (enacted by living history performer Karen Haas) and myself on Monday, November 4 at 7:00 PM at the Vashon-Maury Island Land Trust Building, 10014 Bank Road SW, Vashon Island. This conversation will explore the connections between Abby and me, our lives, our experiences as women artists working 100 years apart, and our work as western plein air artists.
I will be posting regularly over the next few days and weeks and talking more about this amazing journey that I've been blessed to be a part of, the paintings and more about Abby. Abby was a very "gutsy" woman and it's an honor to help bring attention to her life and her
work.