The art of Nebraska oil painter Debra Joy Groesser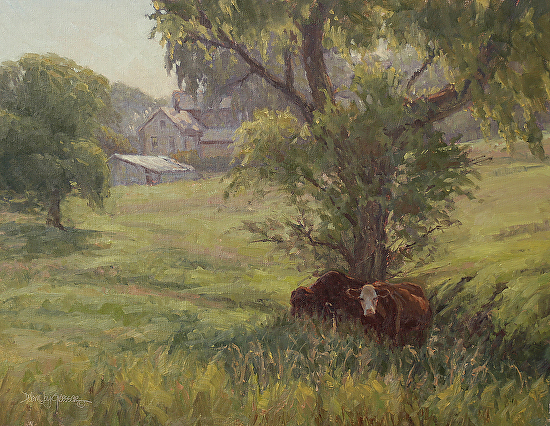 Thank you for taking time to visit my website...welcome!
Above is one of my latest paintings, "Just Chillin' in the Shade". Visit the "My New Works" section under the "Paintings" tab to read more about this piece. It will be included in the "Earth and Sky: Women of the Prairie" exhibition at The Gallery at Artworks in Wichita, Kansas, which opens May 31st. Below is another new painting, entitled "At the Cliff's Edge" (9x12 oil on linen panel). It was painted on location at Garrapata State Park in California and is one of the paintings included in "Powered by Nature: Seven Women", an exhibition featuring the work of seven women artists: Becky Joy, Kim Casebeer, Cindy Baron, Christine Debrosky, Shanna Kunz, Lori McNee and myself. The show will run through May 19th at Mountainsong Gallery in Carmel, California.
Also now showing at Southwind Gallery in Topeka, Kansas: The Missouri Valley Impressionist Society's 2nd Annual Juried Exhibition featuring one of my paintings. Twelve more of my paintings are on display in the gallery's upstairs loft too! My work will also be featured in exhibitions in Wichita Kansas in June, Door County Wisconsin in July, Denver Colorado in August, Charleston SC in October and Seattle Washington in November. Please go to the "Exhibition and Events" tab for details and all the latest information.
It's a great honor to be the new president of the American Impressionist Society! Our 2013 National Juried Exhibition will be held at M Gallery in Charleston SC in October. Please visit www.americanimpressionistsociety.org for more information. I'm also pleased to be the show chair for Plein Air Artists Colorado's National Juried Exhibition which will be held at Abend Gallery in Denver, Colorado in August.

To watch an exclusive video about my work, visit http://www.youtube.com/watch?v=sCdd1H0eWcs&feature=g-upl . You can also follow me on Facebook at Debra Groesser Fine Art, and on Twitter and Pinterest (Debra Joy Groesser). Again, thanks so much for your support and for visiting!
All images on this site copyrighted by the artist and may not be reproduced without the written permission of the artist.